---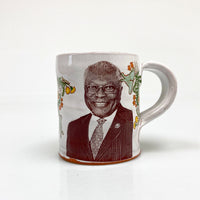 James E. Clyburn is the Majority Whip and the third-ranking Democrat in the United States House of Representatives.  
When he came to Congress in 1993 to represent South Carolina's sixth congressional district, Congressman Clyburn was elected co-president of his freshman class and quickly rose through leadership ranks. He was subsequently elected Chairman of the Congressional Black Caucus, Vice Chair, and later Chair, of the House Democratic Caucus.
As a national leader, he has championed rural and economic development and many of his initiatives have become law.  His 10-20-30 federal funding formula was included in four sections of the American Recovery and Reinvestment Act.  Congressman Clyburn is also a passionate supporter of historic preservation and restoration programs.  
From clyburn.house.gov
This wheel thrown mug is made of earthenware clay and glazed with a glossy white glaze. Clyburn is featured as a decal and fired on, permanently affixed in the glaze. He is surrounded by floral decals.
This mug is microwave and dishwasher safe. It is approximately 4" tall. You will receive a mug similar, but perhaps not identical, to the one pictured.